Description
AS3X Receiver with Optional SAFE Select Technology
This Bind-N-Fly® Basic model features a Spektrum receiver integrated with AS3X® (Artificial Stabilization – 3-aXis) technology to smooth out the effects of wind and turbulence for the remarkable sense of stability and precision larger, expertly tuned aircraft enjoy.
If this is your first scale model or would like an extra margin of safety while getting familiar with the airplane, optional SAFE® Select flight protection can be enabled. No programming is required. Simply change up the binding sequence as directed in the manual.
With SAFE Select features enabled, you get:
Pitch and Bank Angle Limits
These keep the aircraft from rolling or pitching upside down. They also prevent excessive climb or dive angles during takeoff and landing.
Automatic Self-Leveling
Instantly returns the wings to level when the sticks are released.
Easy Switch Assignment-No Programming Required
The simple procedure for assigning a transmitter switch to turn SAFE Select features on and off doesn't require any programming and takes just a few seconds.
Needed to Complete
Full-range, 6+ Channel DSMX®/DSM2® Transmitter with Adjustable Dual Rates.
1800-2200mAh 4S or 2200-2500mAh 3S Li-Po Flight Battery
Suitable Li-Po battery charger
What's in the box?
(1) E-flite F-27 Evolution BNF Basic
(1) Spektrum™ AR636A Receiver
(2) DSV130 Digital, Metal-Gear Servo
(1) 40A Brushless ESC
(1) 10-Size Brushless Outrunner Motor
(1) User Manual
Durable Design
Oversized elevons are controlled with digital metal-geared servos that offer precise control and unmatched durability. The aerodynamically efficient design features composite reinforcement throughout its lightweight EPO structure to provide a rigid airframe that's durable and has low wing loading.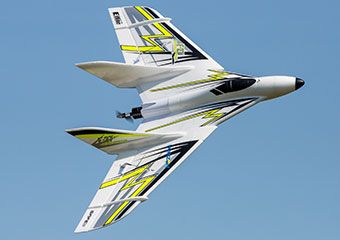 Ballistic Power
The robust brushless power system delivers great performance and speeds of up to 85mph when flown on a 3S LiPo battery, or you can install a 4S battery for outstanding acceleration, beyond unlimited vertical performance and straight-line speeds of 105mph.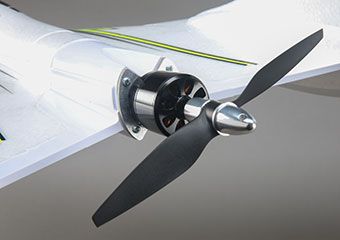 Three-Piece Airframe
At just under 40-inches in span, the F-27 Evolution is easy to keep together, or take apart for storage and transport that's more compact than any flying wing it its class. The wings are supported by carbon fiber tubes and connect to the center section using a unique attachment system that secures them without the need for tools or fasteners.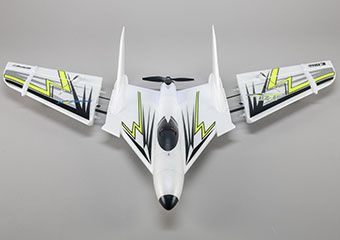 FPV Ready
The stock twist-lock attached nose can be quickly replaced with an optional nose (EFL5608 sold separately) containing an integrated FPV camera and video transmitter (VTX) that blends perfectly into the sleek outline and easily connects to the factory-installed wiring harness.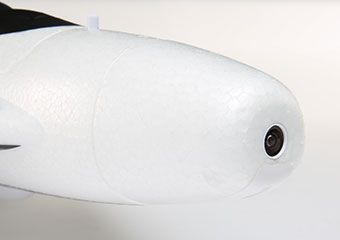 Bind-N-Fly® Convenience
Included and installed is a pre-programmed Spektrum AR636A Receiver. Just charge the battery, bind the aircraft to your SpektrumT DSMX® technology compatible transmitter and fly.